Crystal clear waters and coolness to sit all day
The umbrella for the beach is permanently in your trunk in the summer but when you make escapes to Attica you feel lucky if you find a beach with trees so you don't have to get all the equipment out of the car. And the truth is, a beach with trees and natural shade can make you stay there all day. Fortunately many beaches of Attica have this privilege and you can make your dives comfortable all day enjoying the natural shade from the trees. The important thing, of course, in these cases is to arrive in the morning to secure a safe place especially on the weekend.
In mygreece.tv we picked out some beaches with trees in Attica where you can enjoy your swim.
Agios Nikolaos Anavyssos
It takes just an hour from the center of Athens to get there and enjoy a guaranteed swim. The waters are crystal clear and if you find a tree for shade you won't leave before sunset. And why would you do that when you found the perfect place to swim, whether you're hanging out, family or your partner? At first it's so big that you'll never feel like it's crowded. One side of Agios Nikolaos is more cosmopolitan and the other side more relaxed. Trees that offer natural shade, are enough for everyone.
You won't have a hard time finding this beach in Attica and you'll need about an hour to get there. You can click HERE to see the route and how you will easily get there as it is located between Aavyssos and Sounio.
Kalopigado

Photo Source: Google Maps This beach is in the area of Keratea in Attica and it is the ultimate getaway without any exaggeration.
The beach with the two names you'll hear called Bromopusi, has the< all package>. And clear water and shallow waters and natural shade. We are talking about a small beach that has fanatical fans and is located in eastern Attica. Although organized, what will <steal> your heart are the trees in which you can enjoy natural shade and cool breeze. It is also generally a quiet beach with not much people. Our advice, of course, is to go early to find the tree you want and where you want it.
Definitely on the list of the most beautiful beaches of Attica with shallow waters. See where Kalopigado ΕΔΩ.
Schinia Beach
Photo Source: Google Maps This beach is in the area of Keratea in Attica and it is the ultimate getaway without any exaggeration.
The all time classic option for a swim with natural shade in Attica. And there's no way you won't find a tree to put your stuff under. The reason for the beach of Schinia. The pine forest offers you the opportunity to enjoy your dives all day long with natural shade and coolness. You won't have a hard time accessing or finding out where you're going to sit. And most likely you'll stay there late.
To find access instructions for Schinia beach in Marathon click HERE.
Sessi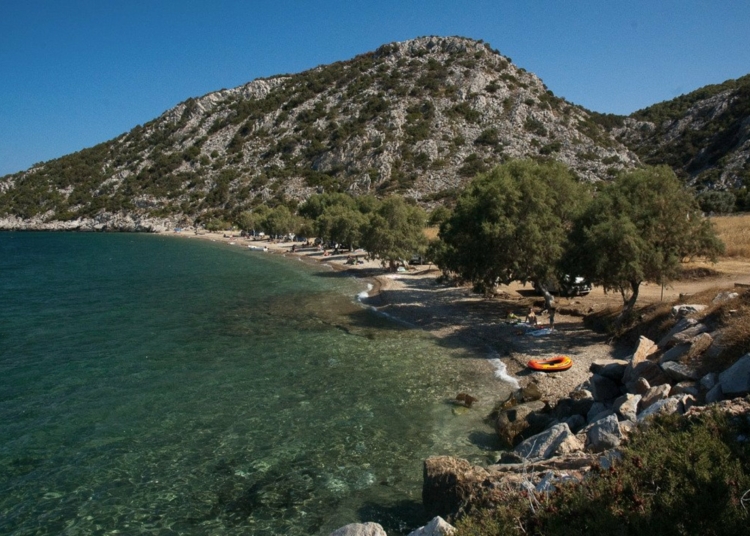 Photo Source: TripAdvisor
With this beach there are two versions. Either you know her so well that you have your favorite tree you choose every time, or you've never heard of her. It's Sesi in Grammatiko. There you will find sand with small pebbles, crystal clear waters and armyrikia that offer you natural shade. The trees almost reach the sea so you can at the same time wet your feet and enjoy the natural shade. Access to this beach is very easy and the fun is guaranteed.
See how to get to one of the most beautiful beaches of Attica HERE.
External photography source: Google Maps