Shallow and clear water and fluffy sand for play
Attica has many options for beaches and even for all tastes. Longer or smaller, with more or less people, cosmopolitan or more isolated. One such is the so-called kids friendly beaches of Attica i.e. for the family. The ones where you can go comfortable with the kids and have a good time. Their common characteristic is the shallow and clear waters and the spread of sand so that they can play comfortably in the sand and in the water. Without bothering you as most of these beaches are quite spread out.
In mygreece.tv we singled out four of them…
Agios Nikolaos Beach
It is a real diamond in Attica in which you will definitely have fun with the family and you will go back soon. This beach is located between Aavyssos and Sounio and is a true oasis. At Agios Nikolaos beach you are waiting for clear, crystal clear waters and a lot of space to choose where to sit. Agios Nikolaos is a place that is ideal for families. And no one bothers the other mainly because of the extent of the sand. In fact when you arrive you will have two bays and you can choose whether you want without facilities or with the beach bar.
See where he is.
Psatha Beach
Photo Source:
Google Maps
This beach is in the area of Keratea in Attica and it is the ultimate getaway without any exaggeration.
One of the most family friendly beach in Corinthian gulf. There the children and parents enjoy their swim in a unique of beauty pine forest. Apart from clear waters on the plus side is that the sea is almost always warm. A pebbled beach that will offer you the peace you want and the children will have a nice time. On the plus side is also the fact that it has the necessary size so that it is never crowded no matter how many people choose it. If you love the clear and warm waters, then you've found out where your next swim with the kids will be.
See HERE on the map where Psatha is located.
Thymari Beach, Attica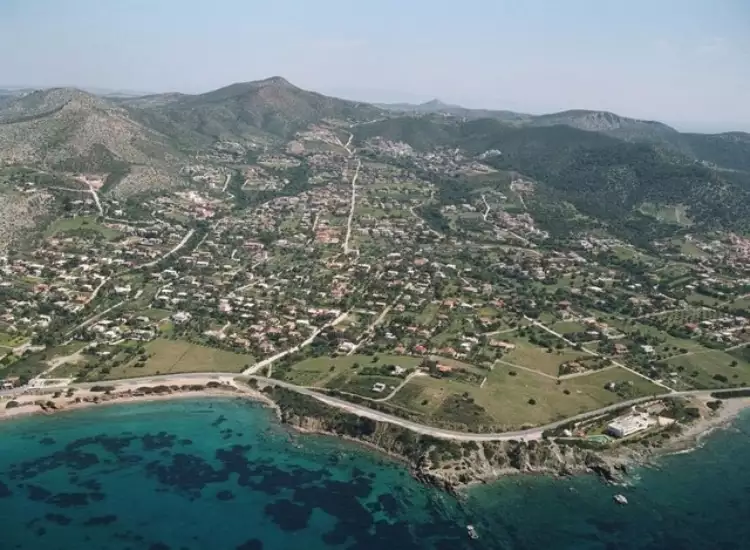 Just an hour away from Athens there is a beach for the weekend excursion with the children. The waters are shallow and clear and there is plenty of space to set up your umbrella and buckets. It is the ideal destination for those who love the calmest situations and are not interested in organized and sandy beaches filed with people. And as the name of the settlement attests, it is so called because of the thymes that exist on the slopes and in some places reach the beach. Thyme beach is located after the beach taverns of Palea Fokaia and is only an hour away from Athens.
See exactly where the beach is here.
Harakas Beach, Attica
Classic and favorite beach in Attica for family dives. Harakas beach has calm and shallow water and fluffy sand for many games and sand castles. There's no way you won't enjoy your swim there. Essentially Harakas is the ideal solution for those looking for an alternative and relatively nearby beach. The beach of Haraka used to be a well-hidden secret outside Soniou Avenue in the homonymous traditional settlement. It is ideal for families with children as in addition is spread out sandy beach and also has shallow water. In other words, it is considered particularly safe for playing and swimming. See HERE exactly where the beach is.